Disneyland Paris
Sunday, September 22nd, 2013 at 19:00 | by Alistair Baillie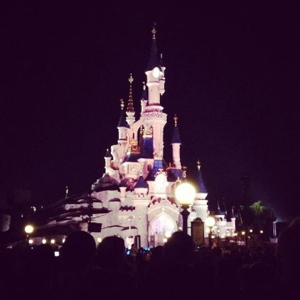 While home I decided to take advantage of my BA miles and the deal Disneyland were doing for the end of their 20th Anniversary Celebrations and my sister and I set off to Paris for a few nights.
It turns out we picked the best time to go – we got there on Thursday afternoon and had done all the rides in the park by 8pm! There were no queues at anything! The next day we went to the Disney Studios park; Crushes Coaster is awesome as is Rockin Rollercoaster 🙂 As with the Thursday there were very few queues and after we did everything several times we went to Planet Hollywood for dinner and back into the Disneyland Park.
Despite being a Friday night there were pretty much no queues – it was a bit busier than the Thursday – but again longest queue was 20 minutes!
The fireworks show at night is amazing – not as many fireworks as at Florida, but they turn the whole castle into a giant video screen and there's a 20 minute light show featuring all the Disney characters called "Disney Dreams".
We checked out of the hotel early on Saturday, left our luggage and went back to the parks. Being a Saturday and sunny, they were packed – we went to Disney studios first and queued for 90 minutes for Crushes Coaster and about the same for Rockin Rollercoaster – by then we had to leave the parks and make our way back to the hotel to get our luggage and catch our transfer to the airport.
Some tips we discovered;
out of season most restaurants etc. inside the Disney parks are closed – one to definitely foot is the one located inside the pirates of caribbean ride!!
if your staying in the Disney hotels, you can walk to the Disney village & the parks. We stayed at Newport Bay which was the furthest away and was a 10 minute walk around the lake. Walking also has the advantage that you go through a separate security check point that's only used by hotel guests and you don't have to queue for ages to go through security!! If you take the free shuttle busses they drop you off at the train station and you have to go through the main security check point which takes ages.
similarly, if you stay for the fireworks – don't wait on the shuttle busses, walk back via the lake.
there's a Starbucks in the Disney village!